Solar Parking Lot Will Deliver 1-Megawatt To Santa Rosa, California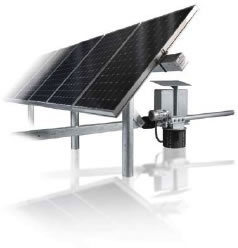 SAN JOSE and SANTA CLARA, Calif., - SunPower Corporation, a manufacturer of high-efficiency solar cells, solar panels and solar systems, and Agilent Technologies today announced they'll install a 1-megawatt solar tracking system at Agilent's Santa Rosa, Calif., campus on top of a canopy structure in the campus parking lot, providing both shade in the lot and solar electric power for the facility. A lot of power.
The SunPower Tracker, which follows the sun's movement throughout the day. Using SunPower solar panels, the highest efficiency panels on the market today, the system is expected to generate an estimated 1.8 million kilowatt-hours per year, offsetting more than 33 million pounds of carbon dioxide over the next 30 years. This is equivalent to planting more than 4,700 acres of trees or removing 3,300 cars from California's roadways.

The tracking solar system design will generate up to 25 percent more energy for Agilent than a similarly sized flat, roof-top system. As a result, Agilent's solar parking canopy will be the largest solar power generator in Sonoma County.

"As the world's premier measurement company, Agilent recognizes the path to a sustainable future includes protecting the environment and being a responsible corporate citizen," said Ron Nersesian, vice president of Agilent's Wireless Business Unit and general manager of the company's Santa Rosa facility. "We are working to reduce the impact of our operations, suppliers, products and services on the environment, and generating our own clean, renewable solar power is a step in the right direction to accomplish those important goals."

Agilent will purchase solar-generated electricity for a period of 20 years under the SunPower Access program, a financing option that allows customers to purchase solar power under a highly flexible power-purchase contract as an alternative to outright system purchase. At the end of the term, Agilent will have the option to renew the agreement, transfer the equipment to a new site, or buy the system.
"Forward-thinking companies like Agilent are turning to solar power because it supports their environmental initiatives and makes good business sense," said Tom Werner, chief executive officer of SunPower. "We're very pleased to offer Agilent the highest efficiency solar technology on the market today to maximize both their environmental and financial savings."