RWE to develop new process to cut pollution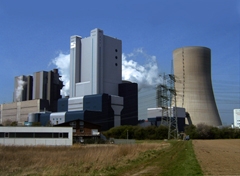 FRANKFURT (Reuters) - German utility RWE, Europe's largest polluter, said on Friday it plans to develop a new process to remove carbon-dioxide from the emissions of coal-fired power plants as countries throughout Europe make it more expensive to emit the greenhouse gas.
Germany's largest power producer will spend 80 million euros ($113.5 million) on the process, which it is devising with Industrial-gases producer Linde and chemicals firm BASF, and plans to use it commercially by 2020.
BASF will test technologies and solvents for the process to remove CO2, known as scrubbing, while Linde will supply the engineering and construction for the test site at an RWE, lignite-fired power plant in Niederaussen, the parties said.
A number of utilities across the world are studying the so-called sequestration of climate-harming CO2, as burning fossils for power generation is one of the most highly polluting activities.
No commercial-scale power plant uses the technology yet and critics say lack of public funding, legal doubts and safety worries leave the full realization far from being a done deal.
The three German companies said they were aiming to remove 90 percent of CO2 from their pilot plant's combustion gas, and ultimately bury it underground.
If the pilot plant proves to be successful, they will build a subsequent demonstration plant which will pave the way for commercial use.
RWE separately hopes to start producing power from a CO2-free plant in western Germany from 2014, using another removal process called integrated gasification combined cycle (IGCC), on which it is spending one billion euros.