Clean air settlement to cost AEP over $4.6 billion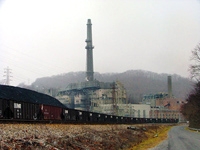 WASHINGTON (Reuters) - It will cost giant utility American Electric Power (AEP.N: Quote, Profile, Research) more than $4.6 billion to comply with a settlement with the U.S. government to reduce harmful air pollution from 16 coal-burning power plants, the Environmental Protection Agency said Tuesday.
In what the EPA called the single biggest environmental enforcement settlement in U.S. history, Ohio-based AEP agreed to end an 8-year lawsuit brought by the federal government.
AEP also agreed to pay $15 million in civil penalties and $60 million in pollution cleanup costs to end the "new source review" case brought by the feds in 1999.