Pollution deadlier than car crashes in Europe: study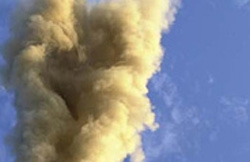 LONDON (Reuters) - Air pollution has cut the average life expectancy of Europeans by nearly a year and contributes to the premature deaths of hundreds of thousands of people annually, the European Environment Agency said on Wednesday.
More than 100 million people in the region encompassing 53 countries also lack access to safe drinking water, a problem most acute in rural areas, the group which compiles data for the European Union said in a report.
Levels of air pollution reduce life expectancy by as much as two years in the most affected areas of Belgium, the Netherlands, northern Italy and parts of Poland and Hungary, the report said.
"Poor air quality is still causing hundreds of thousands of premature deaths in Europe every year and continues to damage crops and ecosystem health," the report said.
"The estimated annual loss of life is significantly greater than that due to car accidents."
Some 870 million people live in the region, more than half in western and central Europe, the report said.
The agency also urged quick action to limit greenhouse gas emissions linked to global warming and to improve air and water quality in the region, the 400-page report said.
The situation is particularly bleak in Eastern Europe, the Caucasus and Central Asia where air-polluting emissions have jumped about 10 percent since 2000 as a result of developing economies, increases in transportation and poor pollution-curbing policies, the report said.
"To respond to these complex environmental issues, we need cooperation across the pan-European region as well as targeted financial and technical support," the group said.