Many French rivers polluted by banned chemical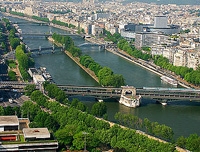 PARIS (Reuters) - Rivers in eastern and northern France are contaminated with chemicals that have been outlawed since 1987 and are proving very hard to eliminate, a government report said on Wednesday.
Earlier this year fishing was banned in much of the River Rhone which runs through the southeastern corner of France because scientists said it contained dangerous levels of polychlorinated biphenyls (PCB).
The latest report said other rivers were in an even worse condition because of industrial dumping dating back decades, including the Seine which runs through Paris.
"It's a huge clean-up job," Nathalie Kosciusko-Morizet, the secretary of state for ecology, told a news conference. Other big rivers in Europe are affected by the same problem, she said.
PCB was used primarily as a cooling and insulating fluid for electricity transformers and capacitors. It has been banned in France since 1987 after research showed it could cause fertility, growth and cancer problems in humans.
Kosciusko-Morizet said PCB had been very heavily used in industry since the 1930s and France was suffering the consequences of long-standing pollution.
"Cleaning it up is far from easy. It's very complicated because there are impressive amounts of sediment." She said it would be technically and economically impossible to clean up the whole Rhone.
She told Le Parisien daily she wanted to see the results of more tests before deciding whether to stop fishing in the Seine.