Doctors warn of harm from kids' cough, cold drugs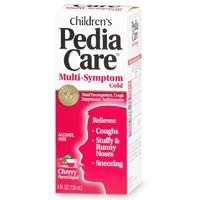 SILVER SPRING, Maryland (Reuters) - Over-the-counter cough and cold medicines can be dangerous for young children and there is no evidence they work, doctors told a U.S. advisory panel on Thursday.
A week ago, major makers voluntarily pulled cough and cold drugs for children up to age 2. But physicians are pushing the government to restrict marketing for use up to age 6.
"Cough and cold products pose genuine risks when given to children under the age of 6 with no associated benefit," Dr. Michael Shannon, professor of pediatrics at Harvard Medical School, told a Food and Drug Administration advisory panel.
Experts have grown alarmed by reports of deaths, seizures, hallucinations and other problems in some children who took the widely sold medicines.
The agency generally has not required companies to prove the products were safe and effective in children because data was extrapolated from adults. Pediatricians said studies provided no evidence the drugs actually helped children.
Manufacturers disagreed, arguing that problems were very rare and usually occurred when children got too high of a dose. They said the medicines were safe and effective when used as directed.
"There is evidence for the efficacy of these ingredients in cough and cold. Most of it, I must admit, is in adults," said Linda Suydam, a former FDA official who is president of the Consumer Healthcare Products Association, which represents over-the-counter drugmakers.
The medicines have been widely advertised for years under names including PediaCare and Little Colds with pictures of smiling babies and other images. About 95 million packages are sold in the United States each year, an industry group said.
The FDA called a two-day meeting to ask if the medicines are appropriate for various age groups up to age 12 and if new warnings or other regulatory action is needed.
Sold by companies such as Johnson & Johnson and Wyeth, cough and cold medicines contain a variety of ingredients that include decongestants, expectorants, antihistamines, cough suppressants and analgesics.
The FDA has received 54 reports of deaths with decongestants and 69 with antihistamines from 1969 through 2006. Most were in children younger than 2. It was unclear if the drugs were related to the fatalities, FDA staff said in a review released before the panel meeting.
Doctors criticized the widespread advertising of the drugs with messages meant to reassure concerned parents.
"The products are advertised in all kinds of media to vulnerable people who worry about their children," said Dr. Daniel Levy, president of the Maryland chapter of the American Academy of Pediatrics.