Kettle Chips Wins Leeds Gold with Wind, Sod and More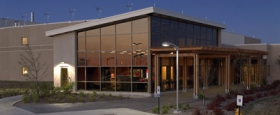 Beloit, Wisconsin - Wind turbines, native prairie grasses and biodiesel conversion won the prestigious recognition for building the greenest food manufacturing plant in the U.S. for chip maker Kettle Foods. The U.S. Green Building Council  awarded the potato chip maker Gold level certification for Leadership in Energy and Environmental Design recognizing Kettle's commitment to minimizing the environmental footprint of its new factory in Beloit, Wisconsin.
The new 73,000 square foot potato chip facility aggressively embraced a broad range of technologies that lowered their carbon footprint, including:
Installation of 18 wind turbines on the factory's roof, which will generate enough energy to produce 56,000 bags of potato chips each year
Filtering and reusing 1.65 gallons of potato wash water
Installing premium, high efficiency equipment to reduce the use of natural gas and electricity
Offsetting 100 percent of electricity use with renewable wind power
Converting used cooking oil into biodiesel
Dedicating five acres to restoration of native prairie land
Sourcing more than 35 percent of building materials from within 500 miles of the project site
Protecting indoor air quality with Green Seal building material and extensive ventilation for fresh air
Providing quality work environments with natural light and outdoor views for all workers
"Investing in green building was a conscious decision on our part to demonstrate our values in a very tangible way," said Tim Fallon, president of Kettle Foods North America. "Our employees have always encouraged us to look at ways to minimize our impact on the environment – from rooftop solar power panels to biodiesel fuel from our used cooking oil. Sustainable initiatives are business as usual at Kettle Foods."
"Kettle Foods is setting a new standard for sustainable food manufacturing in the U.S.," said Connie Lindholm, Executive Director, Wisconsin Green Building Alliance. "It's demonstrating through action a commitment to the environment that goes far deeper than its leadership in the natural food industry. We hope other businesses look to Kettle Foods as an inspiration for their own facilities."
The Wisconsin facility was constructed with the goal of creating a great work environment for employees with particular attention to the physical space and indoor air quality, using such materials as YOLO Colorhouse® zero VOC (volatile organic compounds) paint. "Our factory is a great place to come to work. Nine out of 10 employees have access to daylight views throughout the facility, and the break room area occupies the best real estate in the building," said Fallon.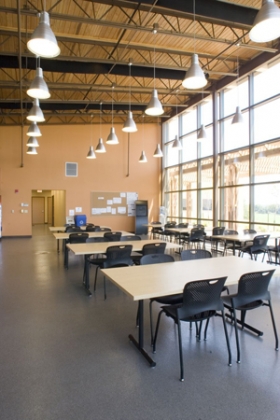 Adopting sustainable business practices is the norm for Kettle Foods, whose popular all-natural Kettleâ"¢ brand Potato Chips account for nearly half the growth of the premium potato chip category. In 2006 Kettle Foods blew off conventional energy, offsetting 100 percent of its annual electricity use with renewable wind power and eliminating more than 16 million pounds of carbon dioxide pollution (CO2), the major contributing cause of global warming. The company also captures the power of the sun to generate 130,000 kilowatt hours of solar energy annually at its Salem, Ore., headquarters. Additional long-standing commitments include recycling used cooking oil into biodiesel, solar power, wildlife habitat restoration on its property, and "chipping in" to local communities with 200,000 pounds of potatoes and chips annually.
Founded in 1978, Oregon-based Kettle Foods is a privately owned company committed to producing great tasting, all-natural snacks with a caring commitment to its employees, craft and community. Its manufacturing sites in Salem, Ore., and Beloit, Wis., produce more than 20 flavors and four varieties of potato chip offerings, five flavors of tortilla chips made with organic corn and a variety of nut butters and trail mixes. For more information: www.kettlefoods.com