Dutch car wins Australia's outback solar race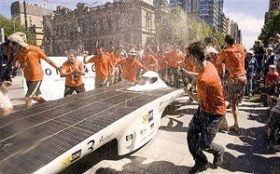 SYDNEY (Reuters) - Dutch solar car Nuna4 won the 20th World Solar Challenge, a 3,000 km (1,864 mile) race through the Australian outback, race officials said on Friday.
The Nuna4 took 33 hours and 17 minutes for the race and was the fourth win for the Dutch team Nuon Solar, which holds the race record at 29 hours and 11 minutes.
The sun-powered-cars from around the world raced from Darwin on Australia's tropical north coast to Adelaide on the country's southern coast. Traveling only during daylight, sometimes in scorching temperatures, Nuna4's average speed was 90.7 kmph (56.3 mph).
© Reuters2007All rights reserved
addImpression("460316_Next Article");