Climate Bill Seen as Sign of Political Shift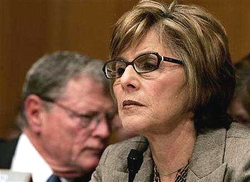 WASHINGTON (Reuters) - A milestone, a landmark and "the political center of gravity is finally shifting on global warming."
Those accolades greeted a Senate subcommittee's approval on Thursday of a bill to cap greenhouse gas emissions, mostly because it is the first of a dozen such measures that might have a chance of becoming law.
The approval vote -- 4 to 3 -- means the bill will be debated in the full Environment and Public Works Committee, chaired by longtime environmentalist Sen. Barbara Boxer.
Boxer, a California Democrat, has indicated she wants the full committee to approve the measure by year's end. That would dovetail with a global conference on climate change in Bali, Indonesia in December. Hearings could start next week.
"We are finally on our way toward preventing the ravages of unfettered global warming," Boxer said in a statement after the vote. Beforehand, she told the panel: "This is a landmark day ... this is an issue whose time has come."
The bill -- formally known as America's Climate Security Act and informally by the names of its sponsors, Sens. Joe Lieberman and John Warner -- is different from earlier efforts because of its details on how a U.S. plan to cap carbon emissions and trade credits for them would work.
"People have said we need a Manhattan Project, we need a moon-shot project to combat global warming," said Lieberman, a Connecticut independent. "This is it."
But Sen. James Inhofe, an Oklahoma Republican who is skeptical about global warming, said the measure would put a heavy economic burden on U.S. citizens.
The Bush administration has opposed mandatory limits on carbon emissions, arguing that they could hurt the U.S. economy and urging voluntary measures instead.
SUPPORT FROM COAL-STATE SENATORS
The bill also features a provision that would require publicly traded companies to tell the Securities and Exchange Commission about any material risks they run as a result of climate change -- from damage due to increased wildfires, more severe hurricanes and worse droughts to the costs of complying with new regulations.
The bill has support from senators in coal-rich states, including Max Baucus, a Montana Democrat. Warner, the bill's co-sponsor, is a Republican from Virginia, another coal state.
Lawmakers from coal states have opposed previous carbon-capping bills, which took aim at coal as a big emitter of carbon dioxide, one of several "greenhouse gases" that most scientists believe trap heat and raise global temperatures.
The latest bill recognizes coal's role in global warming but offers financial incentives to develop clean coal technologies.
That provision rankled some environmental groups.
"The Lieberman-Warner bill will reward corporate polluters by handing them pollution permits worth almost half a trillion dollars," Erich Pica of the group Friends of the Earth, said in a statement. "The levels of pollution-rewarding giveaways in this bill are truly obscene."
"Polluters must pay for the damage they do to our planet -- period," the Sierra Club's Carl Pope said in a statement.
Even so, he supported sending the bill to the full committee.
So did the National Environmental Trust's Philip Clapp, who noted a shifting "center of gravity" on global warming.
"The question is no longer whether the U.S. will act to cut its global warming pollution, but by how much and how soon," said Clapp.
Elizabeth Thompson of Environmental Defense hailed the vote as "much more than a milestone," saying the bill offered "a real chance of enacting a mandatory cap on emissions in this Congress."