Asian stock rally pauses after Oil slides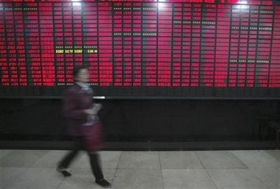 By Ian Chua
HONG KONG (Reuters) - Oil bounced back above $89 a barrel on Monday, steadying from last week's near $10 slide, but Asian stock markets took a breather after posting their best weekly gain in more than three months.
The pause in stocks helped the low-yielding yen firm slightly, recouping some of Friday's decline against the dollar and euro, and pushed safe-haven Japanese government bonds higher.
Expectations of an interest rate cut by the Federal Reserve at its December 11 policy meeting had helped counter ongoing worries about the fallout from a tight credit market and a deep U.S. housing slump, sparking a rally in stocks last week.
"Investors will take a wait-and-see stance before the Federal Reserve's meeting, so big movements in markets look unlikely," said Samuel So, analyst at Samsung Securities in Seoul.
Bank of Japan Governor Toshihiko Fukui warned that the U.S. economy risks further slowdown if ongoing adjustments in its housing sector deepen further.
Tokyo's Nikkei average eased nearly 0.3 percent by the midsession, while MSCI's measure of other Asia Pacific stocks, which drifted in and out of negative territory, was 0.3 percent higher at 0230 GMT.
Last week, the MSCI index rallied 5.1 percent, snapping four straight weeks of losses, but November was the index's worst month since May 2006.
U.S. crude for January delivery rose nearly $1 to above $89.50 a barrel, but was still well off a record high near $100 set on November 21, as investors bet that last week's selloff was overdone.
Gold which had tracked oil lower, also edged up towards $790 an ounce after last week's 4.8 percent drop.
BANKS RISE
Bank stocks mostly rose across the region, further buoyed by optimism over a proposed rescue for struggling U.S. homeowners.
Both the U.S. Treasury and U.S. mortgage industry leaders are close to finalizing a plan that would freeze interest rates for subprime borrowers before they reset sharply higher.
Citigroup's Tokyo shares advanced 3.4 percent, Japan's top lender Mitsubishi UFJ and National Australia Bank both put on more than 1 percent, but South Korea's Kookmin Bank lagged, easing 1.4 percent.
Some technology stocks were pressured by a slide in Dell Inc , which disappointed investors with its outlook. Samsung Electronics slipped 0.9 percent and memory chip maker Hynix Semiconductor lost 2.5 percent.
But China Railway Group, whose Shanghai share sale attracted a record $457 billion in subscriptions, opened 56 percent higher on their debut, near the low end of analysts' forecasts.
DOLLAR SOFTER
The dollar, which last week recorded its biggest weekly jump against the yen in nearly 2- years, slipped to 110.56 yen from last week's peak near 111.25 yen.
The euro also pared last week's gains against the yen, slipping to 162.13 yen from last Friday's high of about 163.85 yen. Against the dollar, the single currency edged up to $1.4665, steadying from last week's fall to two-week lows.
The dollar rose strongly last week as Wall Street rallied on the back of growing expectations for U.S. interest rate cuts.
"We believe as long as moderation in the U.S. economy is gradual, a dramatic fall in the dollar can be avoided," UBS currency strategists said in a note to clients.
Among government bonds, the yield on the benchmark 10-year Japanese government bonds eased 1.5 ticks to 1.455 percent as the Nikkei eased.
(Editing by Ian Geoghegan)