UK must aim for near carbon-free power by 2020: PM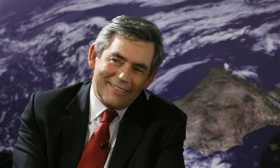 LONDON (Reuters) - Britain should get nearly all of its electricity from clean energy sources by the end of the next decade, Prime Minister Gordon Brown said on Monday.
"Virtually all electricity by 2020 (must be) from low carbon sources," Brown told a meeting of environmental activists and businessmen in London.
"We must start that transformation now. We are going to have to change quite fundamentally (the way we produce electricity)."
Brown did not define low carbon energy, but that could include technologies such as combined heat and power and carbon capture and storage (CCS) fitted to conventional coal power plants, as well as renewable energy and nuclear power.
"CCS will be a vital technology... if we have any chance to meet climate change targets," Brown said.
Britain gets less than 2 percent of all its energy needs from renewable sources like the wind, sun and plants, and about 4 percent of its electricity.
European Union leaders agreed in March to get a fifth of all energy from renewable sources by 2020.
(Reporting by Gerard Wynn, writing by Daniel Fineren)