Forget the climate! Britons scent U.S. bargains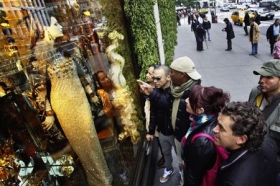 By Chloe Fussell
LONDON (Reuters) - For British tourists heading to the Big Apple to take advantage of a weak dollar and stock up on bargains, the choice is clear: saving money comes before saving the planet.
With sterling hitting its highest levels against the dollar since 1981, British media are cranking up headlines on the number of people jetting to the United States to pick up bargain designer clothes and electrical goods.
"The weak dollar is certainly helping a few shoppers find their way to the U.S.," George Stinnes, head of investor relations at British Airways, said earlier this month when the company reported passenger numbers on routes to the Americas had jumped 7.4 percent in October from a year ago.
Those who have witnessed the sharp-elbowed frenzy of retailer Harrods' sales may not be surprised to learn that for some shoppers, the lure of cheap trendy Ugg boots and iPods outweighs the 2,000 kg or so of carbon dioxide the return flight pumps into the atmosphere.
The transatlantic bargain-hunting contributes to Britain's status as the eighth-largest emitter of carbon dioxide in the world, according to U.S. Department of Energy figures.
"It's business travelers who should worry about carbon emissions," said Martin Smithers-Brown from London, checking in for a flight to New York at Heathrow airport for a four-day shopping trip with his wife and two friends.
He said he planned to pick up electrical goods such as iPods and cameras, while his wife Krista had her eye on brand-name clothes.
"You can't beat the dollar at the moment," she said. "It's always cheaper over there. Two years ago I was paying 20 pounds for a pair of Levis there. Now it's even cheaper."
The shoppers are crossing the Atlantic as concerns at home mount about the scale of fallout from the U.S. credit crunch and British retail is nervous: retail sales fell in October for the first time since January.
"It's really good value -- you have to really control yourself because the pound is so strong against the dollar," said Londoner Rhoda Ogan, visiting New York to see a friend.
But if travel is included, Britons who ignore their carbon footprint as they leap aboard transatlantic flights to bag cheap luxuries may well end up spending more than they would at home.
FALSE ECONOMY?
Many major currencies have boomed against a dollar weakened by investor fears about the health of the U.S. economy -- particularly after banks announced over $50 billion of write-downs on assets linked to the troubled housing sector.
With sterling at its strongest versus the dollar in 26 years, a rule of thumb for British shoppers is to halve the dollar price of goods to get their cost in pounds.
This emphasizes how dramatically cheaper U.S. goods seem. Add in the cost of a flight and hotel at peak season, however, and the cost spikes.
In New York, a shopper could pick up an Omega men's watch, a pair of Timberland boots, a pair of Ray-Ban Wayfarer sunglasses and a bottle of Chanel No. 5 perfume for about $3,750 (1,830 sterling) -- about 20 percent less than they would cost at home.
Add to that the typical cost of the flight and a weekend in a Manhattan hotel -- charging premium rates in the run-up to Christmas -- and the total is 2,850 pounds, adding roughly 1,000 pounds.
"In the four days I'm here I'll spend about $900 and there is no way I would spend that in four days in London," TV producer Catherine Mark told Reuters by telephone from New York. "I'm not really that bothered about the shopping, it's just exciting being here."
On top of travel costs, returning Britons face a limit of 145 pounds ($298) in the value of goods imported, after which they must pay 20 percent tax. Attempted evasion -- or ignorance of the limit -- is penalized by doubling the tax.
Even if more shoppers are heading to the United States, Britain's Revenue and Customs office (HMRC) says it has not seen an increase in goods brought back, adding that it targets mainly large-scale multiple purchases.
"We thought we might get some increased activity, but in actual fact people seem to be quite well aware of their spending and ... we haven't seen an increase in goods coming in," said Mike Burrell, spokesman for HMRC.
Some shoppers say they unpack U.S. purchases immediately, and work them to make them look 'used' before flying home.
STOCKPILING DOLLARS
The bargain-hunt can go beyond consumer goods. Travelex, a London-based currency exchange company, said dollar purchases in Britain had risen by 40 percent since the pound began to hit new highs -- partly on demand for shopping, but also on a gamble that the greenback itself may, at current levels, be a steal.
"We're ... seeing that customers are taking advantage of the current rate by actually stockpiling U.S. dollars," Antony Hudson, its UK retail director, told Reuters.
"Those travellers actually visiting the States are changing up much more than they need so they have a surplus to draw on for a future trip, or others are actually changing up money now in anticipation of a holiday in the future."
They are riding in the slipstream of professional investors who anticipate slower economic growth in the United States by lightening purchases of U.S. securities, which undermines demand for the dollar.
With markets expecting the Federal Reserve to cut interest rates, investors are switching funds to countries with higher returns: in Britain, the key rate is 5.75 percent so in turn, demand for sterling adds to upward pressure on the pound.
OFFSET ONBOARD
By this time next year, currency strategists expect the dollar to have recovered slightly. Analysts polled by Reuters predict the pound can stay above $2 for the next six months, but is likely to ease back.
But whatever the exchange rate, environmental campaigners acknowledge that concerns over climate change are unlikely to dent people's enthusiasm for flying -- for bargains or not.
"Realistically people are still going to fly, so the best thing for them to do is to offset those emissions," said John Buckley, managing director of Carbon Footprint Ltd, a company which campaigns and consults on lowering emissions.
Airline Virgin Atlantic -- making a marketing virtue out of environmental vice -- is offering vouchers to passengers on transatlantic flights so they can offset carbon dioxide emissions.
Passengers pay a fee to counterbalance the emissions from their flight, which goes towards projects such as a hydropower plant in Indonesia or Indian biofuel technology.
On a return flight to New York, that costs an extra 23.94 pounds. Not everyone is sold on the idea.
"I don't actually understand what they'll use it for," said Krista Smithers-Brown. "I think it's another excuse to make money."
(Additional reporting by Jamie McGeever, Pete Harrison, Marc Jones, Christina Fincher, Sumeet Desai and Golnar Motevalli; editing by Sara Ledwith)