North Korea says may slow nuclear disablement: Kyodo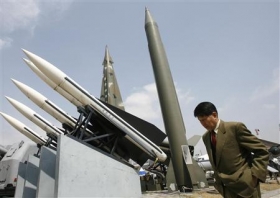 TOKYO (Reuters) - North Korea may slow the pace of disablement of its nuclear facilities, blaming a delay in the delivery of energy aid promised under a disarmament deal, Kyodo news agency reported, quoting a Pyongyang official.
"There is a delay in the implementation of economic compensation obligations to be undertaken by the other countries in the six-party talks," Hyun Hak Bong, deputy director of the North Korean Foreign Ministry's American affairs bureau, was quoted as saying late on Wednesday.
"We have no choice but to take measures to adjust" he added, referring to the pace of disablement of the nuclear facilities.
Hyun was speaking after talks with Chinese and South Korean diplomats in Pyongyang, aimed at clarifying details of the six-party agreement to provide North Korea with fuel oil in exchange for denuclearization, Kyodo said.
North Korea agreed to shut down its nuclear facilities and declare all its nuclear activities by the end of the year, in return for fuel and diplomatic incentives, under the disarmament deal reached at six-party talks involving United States, China, South Korea, Japan and Russia.
Shipments of oil to North Korea began months ago, but there have been delays for technical reasons, Kyodo said.
"This is a purely technical issue," Kyodo quoted Hyun as saying about the slowing of disablement work, adding that he indicated Pyongyang does not plan to abandon the process.
If Pyongyang gives a full accounting of its nuclear programs, the United States is expected to drop it from a U.S. list of state sponsors of terrorism, which imposes economic and other sanctions on the secretive state.
In a separate report, a North Korean official told U.S. negotiator Christopher Hill this month that Pyongyang had about 30 kg (66 lb) of plutonium, the Tokyo Shimbun said on Thursday, citing sources in the United States and South Korea.
Hill held talks with top nuclear envoy Kim Kye-gwan during a visit to North Korea in early December.
Analysts have estimated that North Korea has about 50 kg of plutonium, which would be enough for six to eight nuclear bombs according to conservative estimates from proliferation experts.
U.S. officials have also accused North Korea of engaging in inappropriate uranium-based activities which can be used in nuclear weapons.
(Reporting by Isabel Reynolds; Editing by Sanjeev Miglani)