Japan to propose new climate forum with U.S., China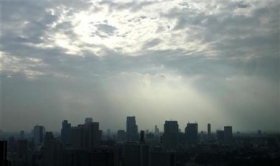 TOKYO (Reuters) - Japan wants to involve China and the United States in talks over a new pact on climate change by launching a working group that will bring together all countries, including the major emitters that oppose existing plans.
The foreign ministry said on Thursday that Japan would propose forming such a group at a meeting in Bali, Indonesia, next month to discuss long-term climate targets, research and development of emission-reducing technology and other issues.
Delegates from about 190 nations will gather in Bali from December 3-14, under pressure to forge a deal by 2009 to succeed the Kyoto Protocol on reducing greenhouse gas emissions amid warnings over droughts and heatwaves caused by global warming.
Japan suggested earlier this year that global greenhouse gas emissions be halved by 2050. Its proposal for Bali makes no mention of the plan, reflecting a cautious approach aimed at including more countries in the next deal on climate change.
"If we try to have discussions on what the new framework should be, we could end up not starting those discussions at all," a foreign ministry official told reporters.
The United States argues that the Kyoto Protocol, which expires in 2012 and binds 36 rich nations, unfairly exempts developing countries such as China and India.
The world's biggest source of emissions has refused to ratify the Kyoto pact, while developing nations are worried that curbing emissions would hinder economic growth.
Japan is one of the world's top-five greenhouse emitters and is struggling to meet its own Kyoto target of cutting emissions from 1990 levels by 6 percent over the 2008-2012 period.
(Reporting by Chisa Fujioka; editing by Sophie Hardach)