House members seek to block EPA carbon limits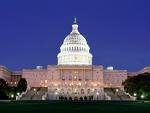 Two senior Democrats in the U.S. House filed a resolution to block the Obama administration from regulating greenhouse gases on its own if a climate change bill fails to pass Congress soon.
The resolution of disapproval, filed on Thursday, is identical to a controversial resolution by Alaska Senator Lisa Murkowski.
Both resolutions offer a fairly quick way to overturn Environmental Protection Agency proposals to regulate emissions of carbon dioxide and other gases blamed for global warming.
The White House has already said it opposes any moves to handcuff the EPA, which it hopes will regulate greenhouse gasses if climate legislation continues to stall in Congress.
A climate bill has passed the House but efforts to pass legislation remains doubtful in the Senate because of strong Republican opposition and with Democrats nervous about elections in November.
A 1996 law allows Congress to void federal agency rules if lawmakers pass a joint resolution within 60 legislative work days after receiving the proposed rule.
Article continues: http://www.reuters.com/article/idUSTRE61P5I920100226