Study: LEED Homes are Not Necessarily Less Toxic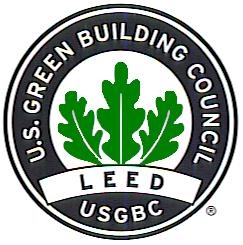 In a new study by Environment and Human Health, Inc. says that the current LEED system provides a false sense of security regarding the health and safety of its certified homes. A study conducted by the Connecticut based health-research non-profit released their results in LEED Certification: Where Energy Efficiency Collides with Human Health, "The purpose of this report is to evaluate the LEED program's standards that many assume protect human health from environmental hazards within the built environment." Here are the major points of the study and the debate that ensued:
- The U.S. Environmental Protection Agency (EPA) defines "green building" as "the practice of creating structures and using processes that are environmentally responsible and resource-efficient throughout a building's life-cycle, from site selection to design, construction, operation, maintenance, renovation and deconstruction."
- Many building programs now exist to encourage energy efficiency and environmental responsibility. The most prominent and successful include the LEED program sponsored by the U.S. Green Building Council, and the U.S. EPA's ENERGY STAR for Buildings program. All have similar objectives and employ similar criteria to evaluate building performance.
- LEED for new construction evaluates projects, and assigns points or scores for categories such as energy efficiency, site renovation, innovative design, efficient waste management, use of recycled materials, access to public transit, and use of building materials deemed to be environmentally responsible. Development projects voluntarily submit building details, and LEED staff award certificates according to accumulated points for "platinum," "gold," or "silver" performance.
- Elements of the built environment that potentially affect human health include the location of buildings, waste management, building materials, infrastructure to deliver air and water, furnishings, and appliances that burn fuels indoors. All of these elements are considered in this assessment of the growing conflict between green building development standards and human health.
- Much of this critique is devoted to the LEED program's failure to place enough emphasis on the indoor air in the built environment. Building materials are known to include many well-recognized toxic substances, including metals, adhesives, plastics, solvents, flame retardants, sealants and biocides.
Article continues: http://www.matternetwork.com/2010/6/study-leed-homes-necessarily-less.cfm