ExxonMobil CEO Says Oil Industry "Not Well Equipped" For Deep Water Spill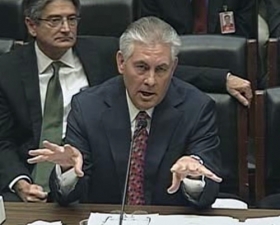 The CEO of the world's largest publicly traded oil company told a Congressional panel last week that the oil industry is "not well equipped" to deal with deep water spills like that now ravaging the Gulf of Mexico.
Rex Tillerson, an engineer who rose to the CEO chair during his 35 years at ExxonMobil, told Democratic Representative Bart Stupak of Michigan, "that's why the emphasis has always been on preventing these things from occurring: because we're not well equipped to handle them, and that's just a fact of the enormity of what we're dealing with."
The enormity of what Tillerson is dealing with is the still unfathomed repercussions of the oil spill for his company and the entire oil industry.
As the Associated Press reports, nations the world over are giving their own offshore drilling operations a second look. A pipeline from Bulgaria through Greece has been canceled, the Chinese offshore oil company CNOOC is giving a well off Shanghai an upgrade, and the EU is looking around nervously.
The Brazilians are "quietly pushing ahead" with development of deep water fields in the Atlantic, including one located 7 kilometers under the surface...someone check which way the currents move down there.
Article continues: http://www.triplepundit.com/2010/06/exxonmobil-ceo-says-oil-industry-not-well-equipped-for-deep-water-spill/