BP workers could have prevented rig accident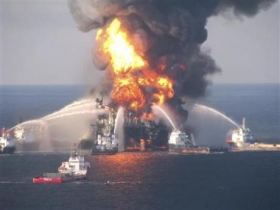 BP had workers on the doomed Deepwater Horizon rig who could have prevented the missteps that led to the massive Gulf of Mexico oil spill, but they were not consulted, the White House oil spill commission said on Thursday.
In an expanded report on the causes of the BP drilling disaster that killed 11 workers and ravaged the U.S. Gulf coast last summer, the commission released new details about the events that preceded the BP accident.
The commission's investigators said BP workers failed to ask a knowledgeable company engineer who was visiting the rig about unexpected results from a critical negative pressure test on the rig.
"If anyone had consulted him or any other shore-based engineer, the blowout might never have happened," the commission said in a statement.
The misreading of that pressure test and the decision to move ahead with temporary abandonment of BP's Macondo well was a major catalyst for the April 20 rig explosion that eventually unleashed millions of barrels of oil into the Gulf of Mexico.
Had BP's well site leaders brought their faulty explanation of the test results to one of the visiting engineers, "events likely would have turned out differently," the commission report said.
The engineers visiting the rig that day later questioned the crew's interpretation of the test results. BP onshore officials said they would have insisted on further testing, had they been consulted.
"The sad fact is that this was an entirely preventable disaster," the commission's chief counsel, Fred Bartlit, said in a statement. "Poor decisions by management were the real cause."
Article continues: http://www.reuters.com/article/2011/02/18/us-oil-spill-causes-idUSTRE71G5NN20110218