Fujia plant in Dalian, China triggers protests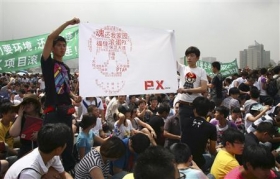 Thousands of people demonstrated in northeastern China on Sunday, demanding the relocation of a petrochemical plant at the center of a toxic spill scare, according to eyewitness accounts and state media.
Demonstrators in the port city of Dalian, in Liaoning province, faced down a wall of police in riot gear in front of the municipal government office and minor scuffles broke out, although there was no report of injuries, state news agency Xinhua said.
State media said last Monday that residents in Dalian were forced to flee when a storm battering the northeast Chinese coast whipped up waves that burst through a dyke protecting the Fujia plant, which makes paraxylene (PX), a toxic petrochemical used in polyester.
Although authorities repaired the dyke and insisted that no spills were detected, the incident sparked panic that PX could have been released, fuelling resentment against the project. Calls on popular microblogging site Weibo and QQ, an instant messaging system, urged residents to protest on Sunday.
Protesters chanted "Fujia, get out!," Xinhua said, adding that there was no sign of the protest dispersing soon.
The outpouring of public anger is emblematic of the rising discontent facing Chinese leaders, which are obsessed with maintaining stability and are struggling to balance growth with growing public anger over pollution and environmental threats.
In a rare concession, Dalian's Communist Party chief Tang Jun and mayor Li Wancai on Sunday "tried to appease the crowd by promising to move the polluting project out of the city," Xinhua said.
Xinhua reported that protesters said the promise was welcome, but added that they wanted a clear timetable for moving the plant. Some of the protesters have refused to move until a timetable is established, Xinhua said.
Photo shows: residents holding a banner with Chinese characters forming a shape of a skull which reads "Get out PX (paraxylene), give us back our home, never give up'' as they demonstrate against a petrochemical plant at the People's Square in Dalian, Liaoning province August 14, 2011."
Article continues: http://www.reuters.com/article/2011/08/14/us-china-protests-idUSTRE77D0EK20110814