10 Ways to Recycle Vinyl Records Creatively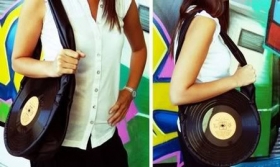 There is something about a vinyl record that presents a classic and timeless feel. Perhaps it is the nostalgia associated with it or even the crispness of the sound when it's played. Whatever the case, the record will forever be a symbol of the golden ages of music. But times have changes now, and the convenience of modern formats has trumped this feel – not to mention that not every record you might have lying around is a classic. Everyone has found themselves with more than one embarrassing addition in their collection that they will never listen to and just allow it to sit around, collecting dust.
Whether you want to lessen the load of your current record box or you have just decided to give in to digital music completely and get rid of all vinyl, you can do more than give them over to the local charity shop. Instead, why not try these cool upcyling ideas.
1. Cover Box
You can never have enough decorative boxes to help keep things organized around the house. In the past I have used plastic bins, but I love this idea. You take five covers and use a thick string to bind them. A standard hole punch will allow you to thread it through, and you can go around every side to make an attractive border. I would suggest using tape on the inside to help keep it steady while you put it together.
For further information:  http://www.matternetwork.com/2011/10/10-ways-recycle-vinyl-records.cfm