Donna Resevoir and Canal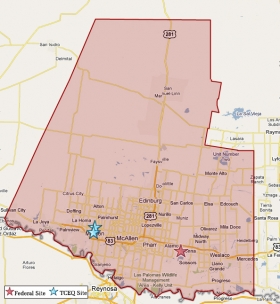 During the week of February 6-12, 2012, representatives from the Environmental Protection Agency (EPA) and the Texas Department of State Health Services (TDSHS) will be in the area of South Alamo, Texas, to speak with residents about the contamination in the Donna Reservoir and Canal. This effort is being made to provide local residents with information about the health risks of consuming fish taken from the Donna Reservoir and Canal. The possession of contaminated fish taken from the reservoir is prohibited by the TDSHS and has been since 1993.
The most commonly observed health effects in people exposed to extremely high levels of PCBs are skin conditions, such as chloracne and rashes, but these were known to be symptoms of acute systemic poisoning dating back to 1922. Studies in workers exposed to PCBs have shown changes in blood and urine that may indicate liver damage. In Japan in 1968, 280 kg of PCB-contaminated rice bran oil was used as chicken feed, resulting in a mass poisoning, known as Yushō disease, in over 14,000 people.
Animals that eat PCB-contaminated food even for short periods of time suffer liver damage and may die. In 1968 in Japan, 400,000 birds died after eating poultry feed that was contaminated with PCBs.[54] Animals that ingest smaller amounts of PCBs in food over several weeks or months develop various health effects, including anemia; acne-like skin conditions (chloracne); and liver, stomach, and thyroid gland injuries.
The principal pollutants in the reservoir are polychlorinated biphenyls (PCBs). PCBs are a group of synthetic organic chemicals that can cause a number of different harmful effects in humans. The primary risk to human health from PCBs is from suspended sediment in the water and the consumption of contaminated fish.
The Donna Reservoir and Canal is an EPA Superfund site located in Hidalgo County in southern Texas just north of the Rio Grande. The site includes the Donna Reservoir, the Donna Main Canal, the West and East Main Canals which extend north from the reservoir, and a series of interconnecting canals.
The Texas Commission on Environmental Quality (TCEQ) conducted sampling of the Donna Reservoir and canal system from April 9, 2001 through April 13, 2001 to document the presence or release of PCBs from soil, surface water or suspended sediments in the reservoir and canal . The contaminated sediment source extends approximately 5.75 miles and includes the Donna Main Canal (aka First Main Lift Canal) from the exit of the siphon on the north side of the Arroyo Colorado through the Donna Reservoir, and into the West and East Main Canals to the intake for the City of Donna. The hazardous substance associated with this source is polychlorinated biphenyl (PCB) Arochlor-1254.
For further information: http://www.epa.gov/superfund/sites/npl/nar1771.htm
Photo: http://www.tceq.texas.gov/