Fires and deaths from deforestation linked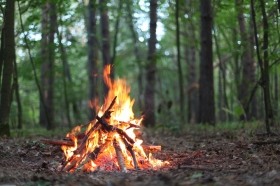 A new study links smoke from the burning of wood waste from deforestation to deaths from the effects of breathing all that smoke.
Worldwide, smoke from these fires (called landscape fires) contributed to an average of 339,000 deaths per year between 1997 and 2006, according to new research published in Environmental Health Perspectives and released today during the Annual Meeting of the American Association for the Advancement of Science (AAAS).
Sub-Saharan Africa and Southeast Asia were the hardest hit by fire-smoke deaths, with an estimated annual average of 157,000 and 110,000 deaths, respectively, attributable to fire smoke exposure, said researcher Fay Johnston, who represented a global team at the 2012 AAAS Annual Meeting in Vancouver, Canada.
Johnston and her co-authors specifically assessed the health impacts of particulate matter smaller than 2.5 micrometers, an important byproduct of landscape fire smoke. First, they looked at satellite data to gather information on areas burned each year during the study period; particulate matter exposures were estimated using a chemical transport model, satellite-based observations, and other data. They applied an accepted World Health Organization framework for determining annual mortality in different regions, and they used results from previous research on the health effects of smoke-related particulate matter to estimate deaths attributable to fire smoke. They further calculated annual mortality during a La Niña period, and an El Niño period. Worldwide, deaths from fire smoke during those periods were estimated at 262,000 and 532,000, respectively, compared with an estimated 10-year global average of 339,000 deaths.
"Fire emissions are an important contributor to global mortality," the EHP article concludes. "Adverse health outcomes associated with landscape fire smoke could be substantially reduced by curtailing burning of tropical rainforests, which rarely burn naturally. The large estimated influence of El Niño suggests a relationship between climate and the burden of mortality attributable to landscape fire smoke."
Fire image via Shutterstock
For more information link to: EurekAlert