GM Announces new trucks, and they are ALL green!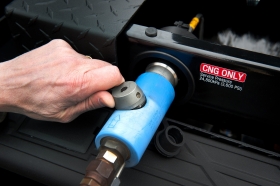 Chevrolet and GMC today announced details of General Motors' bi-fuel 2013 Chevrolet Silverado and GMC Sierra 2500 HD extended cab pickup trucks. Fleet and retail consumers can place orders beginning this April.
The vehicles include a compressed natural gas (CNG) capable Vortec 6.0L V8 engine that seamlessly transitions between CNG and gasoline fuel systems. Combined, the trucks offer a range of more than 650 miles. The Silverado and Sierra will be available in standard and long box, with either two- or four-wheel drive.
"The bi-fuel Chevy Silverado and GMC Sierra provide customers with choices in advanced propulsion technology, and because CNG is a clean-burning, domestically produced fuel, it has wide appeal, "said Ed Peper, general manager, GM Fleet and Commercial Operations. "The addition of a full-size bi-fuel pickup truck to GM's fleet portfolio is another milestone in putting the customer first in everything we do – by offering great products, innovative solutions and a great customer experience."
The bi-fuel trucks are built with a specially designed engine, the fuel system is installed by GM's Tier One supplier and the completed vehicle is delivered directly to the customer. This process makes ordering the bi-fuel option as seamless and efficient as a standard vehicle.
Photo credit: General Motors
Article continues at JustMeans.