Iskander Malaysia: World's First "Smart Metropolis"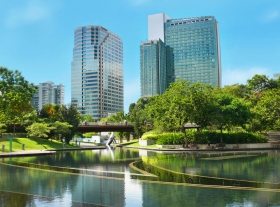 Malaysia is currently building the world's most advanced low-carbon mega-city comparable in size to the area of Luxembourg, with an expected population of 3 million by 2025.
Iskandar Malaysia, the first "smart metropolis" of Southeast Asia founded on principles of social integration as well as low carbon emissions thanks to a green economy and green technologies, is a potential template for urban development in emerging countries with burgeoning populations, international experts say.
Malaysia's ambition for the massive new Iskandar development: a model of sustainable development and an economic hub in league with Hong Kong and neighboring Singapore.
And Iskandar is already a powerful magnet for foreign investment, exemplified by openings of expansive new facilities of the UK-based Pinewood Film Studios, Asia's first Legoland theme park, and remote campuses of several western universities (including the UK's Newcastle University, Southampton University and Marlborough College, co-located in Iskandar's 140-hectare "edu-city").
Ongoing creation of the new metropolis is the focus of special meetings of Malaysia's Global Science and Innovation Advisory Council (GSIAC) -- a unique assembly of all-star national and international experts created to inform and assist the nation's sustainable development. GSIAC is chaired by its founder, Prime Minister Dato' Seri Najib Tun Razak.
Iskandar has been planned since its 2006 inception as an environment-friendly, socially-responsible metropolis, demonstrating innovations many international experts consider essential for meeting the growing challenge of 21st century urbanization.
Continue reading at ClickGreen.
Green city image via Shutterstock.