Mercury Strategies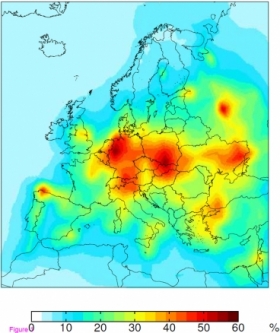 Natural sources, such as volcanoes, are responsible for approximately half of atmospheric mercury emissions. Humans contributed most of the rest through fuel combustion. International negotiators will come together next week in Geneva, Switzerland for the fifth and final meeting to address global environmental controls on mercury. Ahead of the negotiations, researchers from MIT and Harvard University are calling for aggressive emissions reductions and clear public health advice to reduce the risks of mercury.
The human-generated half can be divided into the following estimated percentages:

65% from stationary combustion, of which coal-fired power plants are the largest aggregate source (40% of U.S. mercury emissions in 1999).

11% from gold production. The three largest point sources for mercury emissions in the U.S. are the three largest gold mines. 

6.8% from non-ferrous metal production, typically smelters.

6.4% from cement production.

3.0% from waste disposal, including municipal and hazardous waste, crematoria, and sewage sludge incineration.

3.0% from caustic soda production.

4.0% from other sources.

The researchers' commentary, published this week in the journal Environmental Health, is in response to a study on the costs associated with mercury pollution in Europe. That study showed that as many as two million children in European Union nations are born each year with long-term IQ deficits due to unsafe levels of mercury exposure. These lower IQs can have spiraling effects on the earning potential of those impacted down the road, resulting in as much as 9,000 million euros in lost revenue a year.

But the authors of the commentary, Elsie Sunderland of Harvard and Noelle Selin of MIT, say mercury's impact — and that of its toxic form methylmercury — extends far beyond the EU.

"Mitigating the harm caused by methylmercury requires global-scale cooperation on policies and source reductions," Sunderland says.

"Most analyses forecasting mercury levels underestimate the severity of the situation because they don't take the entire picture into account when looking at future mercury levels," says Selin, an assistant professor of engineering systems and atmospheric chemistry.

Selin and Sunderland explain in their commentary that most mercury exposure comes from eating fish. Coal-fired power plants and other sources such as industrial activities emit mercury to the atmosphere. This mercury eventually rains down to the land and sea. In the ocean, mercury can convert to toxic methylmercury, and accumulate in the marine food chain. Mercury pollution settles deep within the ocean and circulates for decades and even centuries, continuously posing dangers to humans and the environment. This is a legacy pollution that will cycle into the environmental for a long time.

When considering future emissions, these legacy emissions are often not taken into account, but should be, the researchers say, because they make up a substantial amount of future emissions and could make already-dangerous levels of mercury even more threatening.

For example, mercury in the North Pacific Ocean — a large player in the global seafood market — is expected to double by 2050, from 1995 levels, due to new emissions. With the substantial legacy emissions that will circle back into the atmosphere, that amount is much greater. This increase in mercury could have dire impacts on fish from the Pacific Ocean.

"Not only will we see these legacy emissions circle back up," Selin says. "But with energy demands growing worldwide, we'll see more new mercury entering the atmosphere, unless we act now to control this mercury at its source — and that's largely coal-fired power plants."

For further information see Mercury.

Graphic by E. Sunderland and N. Selin/ Environmental Health.