Biochar Initiative Restores Hillside at Former Silver Mine in Colorado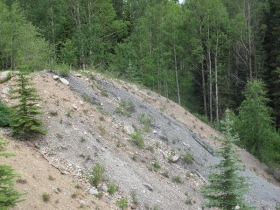 Once an active silver mine in the early 19th century, Hope Mine recently transformed from a barren, abandoned plot into a verdant, restored landscape. Sierra Club Green Home explores the innovative biochar initiative led by the Aspen Center for Environmental Studies (ACES) that made it possible. Following the devaluation of silver and the Silver Panic of 1893, Hope Mine became a largely forgotten, desolate knoll. In 2003, the U.S. Forest Service (USFS) assumed ownership of the mine and began to assess the mine waste that had formed at the site in large piles of toxic rock. Although the Aspen Water Department found no evidence of danger at the time, the site's proximity to Castle Creek raised concern: If a storm or other event propelled the slope-like layers of mine waste to erode, Aspen's water supply could be contaminated.
In response to this concern, USFS and ACES formed a partnership to explore solutions for restoring the site's landscape to benefit the community and surrounding forest environment. Among their considerations, cost-effectiveness was paramount; a traditional mine restoration could cost over a million dollars. After several brainstorming sessions, they began to consider an experimental idea burgeoning in the green energy field—biochar.
A byproduct of charcoal, biochar is created by burning wood products in the absence of oxygen. The substance not only holds the capacity to improve soil vitality, but it also acts as a carbon sponge, sequestering atmospheric carbon and thus reducing greenhouse gas emissions. While archeological studies indicate that the origin of biochar traces back over 2,000 years to the South American Amazon basin, scientists are now studying how biochar technologies can produce green energy and address global warming.
For further information see Biochar.
Silver Mine image via Aspen Center.