The Growth of Efficient Buildings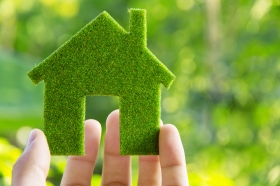 The area of building efficiency affords tremendous opportunities for both economic growth and reduced environmental impacts. Buildings are the single largest emitters of greenhouse gases. According to a UNEP study titled "Towards a Green Economy," homes and businesses are responsible for 40 percent of the climate change causing carbon pollution. There is significant room for improvement in new construction and retrofits in homes, businesses, schools and other organization.
In addition to environmental benefits, there are powerful economic incentives driving efficiency. There are a wide range of new innovations from analytics to smarter sensor technologies that offer cost effective opportunities for improvement. President Obama has indicated that he will make building efficiency a priority in his second-term. Federal buildings efficiency initiatives are already underway and in 2013, the GSA and IBM are collaborating to radically improve the efficiency of the 50 most energy-intensive federal buildings in the U.S., including the White House.
Educational establishments are also helping to drive efficiency by forging curricula to teach students new skills. Top universities such as Carnegie-Mellon, Tulane, University of Arizona, Boston University and Columbia are leading the way as they create new cross-disciplinary majors in building efficiency.
The potential savings from efficiency are huge, particularly when partnered with increased energy productivity. The Alliance Commission on National Energy Efficiency Policy released a report that suggested a strategy to double U.S. energy productivity by 2030. The commission is comprised of a diverse coalition of energy leaders including representatives from energy utilities, academia, industry and environmental groups.
The commission found that getting twice as much output could reduce U.S. carbon dioxide pollution by one-third below 2005 levels. Achieving the commission's goal of doubling energy productivity by 2030 would also:
 - Add 1.3 million jobsCut average household energy costs by more than $1,000 a year
- Save American businesses $169 billion a year
- Increase gross domestic product (GDP) by up to 2 percent
- Decrease energy imports by more than $100 billion a year
- Reduce CO2 emissions by one-third
The Commission report suggests that there are more than $1 trillion in energy-saving opportunities with the right private sector, federal, state and local support. The ambitious yet attainable solutions proposed by the commission will drive innovation and technological advancements, which will modernize manufacturing and make the U.S. economy more globally competitive.
Continue reading at Global Warming is Real.
Green house image via Shutterstock.