Silver Springs Becoming Florida State Park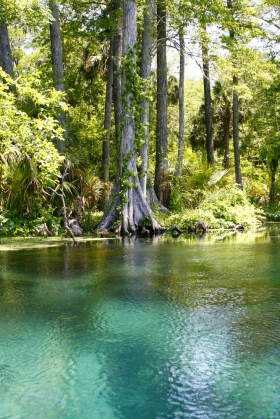 Before Disney World, Silver Springs in Central Florida was for decades one of the state's most popular tourist destinations.

Even if you've never visited Silver Springs, you might have seen it — if you're old enough. The 1960s television show Sea Hunt was filmed here, as were countless movies including Tarzan and Creature from the Black Lagoon.
The crystal clear water of Silver Springs made it invaluable to Hollywood. Guy Marwick, the founder of the Silver River Museum, says it drew over a million visitors a year.

"It was not an amusement park in the sense of Coney Island and the rides that one might associate with it," Marwick says. "It was kind of the natural Florida, and I think that's what people are hoping to see it go back to now."
Later this year, Florida's park service will take over Silver Springs and begin working to restore it to a more natural state. That is a huge task, however, and over the past two decades Silver Springs — and most springs in Florida — have fallen on hard times.
Drought, development and excessive groundwater pumping have cut the amount of water flowing here in half. From the walkway that overlooks the head spring, the water is still blue and crystal clear, with fish, turtles and alligators clearly visible.
But director of the Florida Springs Institute Robert Knight says look closer and you'll see the problem: pollution from agriculture and residential development has helped coat the spring with algae.
"This spring was white on the bottom," Knight says. "It was a sandy bottom and [with] shells; it was just glistening ... Now, it's green on the bottom because it's covered with algae. It's just not glowing at you the way it used to."
Florida spring photo via Shutterstock.
Read more at NPR.