Has power in the electric vehicle market switched from the US to China?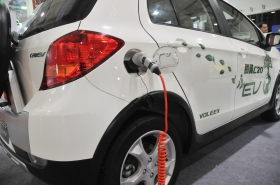 When we think of automobiles the likelihood is that the US is a country which will spring to mind and then perhaps other operations in the Far East, Europe and beyond. For many years the likes of Ford and General Motors have dominated the automobile industry giving the US government enormous power to lead while the rest follow. However, there is a growing concern that the US government may well be losing control of the electric vehicle market with the Chinese authorities now keener than ever to invest in this new technology.
It seems almost inconceivable that President Obama, who has recently been forced to renege on his 1 million electric vehicle target, should lose control of the electric vehicle industry to China, but that seems to be the way in which the industry is moving.

Anyone who is interested in electric vehicles will be well aware of the ongoing issues with Fisker, the electric vehicle design company, which is literally on the verge of bankruptcy owing the US taxpayer $171 million. There is concern that the US government may not have been as diligent as it might have been with regards to the initial larger taxpayer loan and indeed there is an ongoing investigation by the US Senate into the funding of alternative transport technology.

On the other side of the coin, the US government recently received the final tranche of a loan made to Tesla Motors which has actually been repaid nine years early. This perfectly reflects the ongoing development of Tesla Motors which has recently confirmed plans to issue an "affordable" electric vehicle by 2017. This vehicle will be in the price range of $30,000-$40,000 and could literally be a game changer for the electric car industry.
Could China become the home of electric vehicles?
In many ways the Chinese government is stuck between something of a rock and a hard place, with regards to electric vehicles, because there are major emission issues within China and the government has effectively been forced to put its substantial power and influence behind the electric vehicle market. As you would expect from an up-and-coming technology, the Chinese government has offered an array of direct subsidies to motorists and an array of financial assistance to various electric vehicle companies in the region.
Voleex C20 Chinese EV image via Shutterstock.
Read more at ENN Affiliate, ElectricForum.