Fighting Global Warming: focussing on temperature is not enough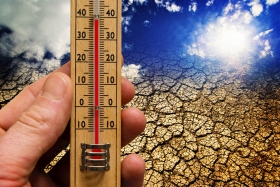 So far, international climate targets have been restricted to limiting the increase in temperature. But if we are to stop the rising sea levels, ocean acidification and the loss of production from agriculture, CO2 emissions will have to fall even more sharply.
This is demonstrated by a study published in Nature that has been carried out at the University of Bern.
The ultimate objective of international climate policy is to prevent dangerous anthropogenic interference with the climate system. To do this, greenhouse gases are to be stabilised at a level that is acceptable for humans and for the environment.
This climate goal is commonly expressed as an increase in the global mean temperature by a maximum of two degrees since pre-industrial times. This general direction is recognised by the majority of the world's governments.
But now, a study carried out by climate researchers based in Bern shows that the focus on the temperature increase alone is by no means enough to meet the ultimate, overarching objective – to protect the climate system from dangerous anthropogenic interference.
This is because, according to the United Nations Framework Convention on Climate Change from 1992, the climate system comprises the "totality of the atmosphere, hydrosphere, biosphere, geosphere and their interactions." The Framework Convention also calls for the sustainability of ecosystems and food production. All of this can scarcely be realised by the two-degree target alone.
Thermometer and dry earth photo via Shutterstock.
Read more at ScienceDaily.