Re-Inventing Small Manufacturing Towns in the 21st Century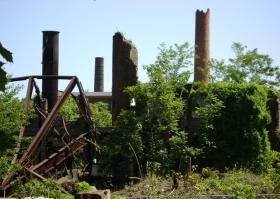 Disastrous consequences evolved as a result of the industrial age and beyond as financial gain was revered at the expense of environmental and social considerations.  These consequences are worst in small single company towns gone bust – communities built so as to concentrate workers on a singular economic enterprise. Many of these communities are now landscapes of abandoned assets, economic atrophy and poisoned land and water. They include mining towns in the West and Appalachia, lumber towns in the Northwest, textile villages in New England and the Southeast, steel towns in the Rust Belt, and motor cities in the Midwest. These places struggle with the aftermath of environmental contamination, economic disinvestment and frayed social fabrics. Now these communities are looking for new ways to build a secure and sustainable future.
20/21 Hindsight: Applying 21st Century understanding to 20th Century Development
Starting in the 1860s, company towns sprung up across America, peaking at 2,500 in the 1930s. Some company towns were exploitive, where the boss owned the workers "heart, soul, skin and guts". Other company towns were utopian, investing in social institutions such as schools, libraries and hospitals.
In 2013, we think of a company town as an historical relic. But more than ever – with globalization, rapid advances in information technology, mass consumption and the long reach of transnational corporations – we live in a world shaped by business priorities. In the 20th century we didn't understand the interrelatedness of economic activities and the health of people and ecosystems. Through science and shared stories, we now know better in the 21st century.
We know pollutants from a chemical plant in one state can form ozone that impacts a whole region, and pollutants from a single coal-fired plant can contribute to climate change affecting the global ecosystem. We know pesticides used on a farm located on one continent affects consumers living in another. We also know that environmental externalities not only affect the health and well-being of current residents, they can have profound negative impacts on human, social, physical, and natural capital lasting for generations. This dramatically diminishes the ability of individuals, communities and even entire regions to contribute positively to a struggling global economy.
Equity and Sustainability
Over the past 30 years, corporations and businesses have increasingly embraced sustainability principles and materials management to reduce impact on the environment. But even as we've gained traction on the environmental front, social equity issues have lagged. In 2012, 15% of the U.S. population lives at or below the poverty line. During the 2000s, poverty grew twice as fast in suburban regions as in cities and rural counties according to the Brookings Institution's Metropolitan Policy Program.
Read more from ENN affiliate Triple Pundit.
Paterson, NJ factory photo by Joe Malinconico