Hotel Marketing Strategy: To Green or Not to Go Green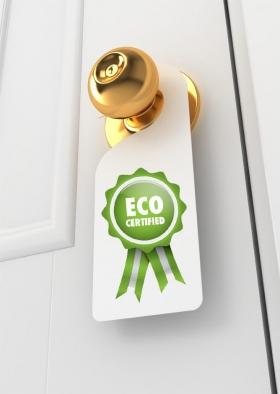 Over the last decade hotels and other businesses have increasingly adopted more and more green strategies as part of their daily operations. These strategies have transcended to marketing declarations of eco-certification that are then toted on hotel websites and other marketing materials for the consumer's consideration when making their purchase decision. Researchers from Cornell's School of Hotel Administration have studied the benefits of this certification to determine its effectiveness for capturing business. But does this matter to the consumer?
Specifically, "For marketers and brand managers, the key question is how (becoming eco-certified) affects customer purchasing," explain the researchers.
"The hotel industry has moved ahead with sustainability," said Chong, an assistant professor at the School of Hotel Administration, "but there's a nagging question about whether installing green programs interferes with the hotel's quality standards and its ability to provide guest luxury. Some hotels have been reluctant to go green because they might lose business. This study shows that, on average, the hotel industry doesn't lose sales or rate from sustainability."
The research team led by Chong and Professor Rohit Verma secured data from Sabre, Inc. comprising information from 9,000 hotels of which 3,000 were eco-certified and 6,000 were not. Actively promoted green features included LEED certification, energy conservation programs, solid waste management programs, etc. Some of the hotels utilized green operations but didn't actively promote them in their marketing and others did not indicating that green practices were not a decisive factor in hotel booking.
"Under the assumption that these hotel booking data are representative of the market, the advertising of eco-certification has statistically zero impact on revenue for the hotel industry overall," says the report. "One silver lining from the study for environmental advocates is that, overall, going green has not hurt hotels."
Chong added, "It was not possible to address the situation of any individual hotel, but we can conclude that going green is compatible with existing quality standards of hotel service, and that advertising green status doesn't hurt a hotel's revenues. But it may not help either. In other words, green is not a 'silver bullet' strategy."
Read more at ENN affiliate Triple Pundit and Cornell.
Hotel door image and Eco Certified image via Shutterstock; morphed by Robin Blackstone.