CO2 Concentrations Hit New High Last Year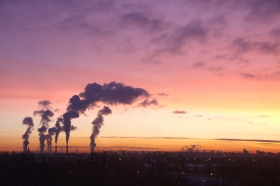 The concentrations of carbon dioxide in the atmosphere hit a record high last year, according to a new report by the World Meteorological Organization (WMO). While this was not a surprise given still-rising global emissions, the concentration rose significantly more than the average this decade. According to the WMO's annual greenhouse gas bulletin, CO2 concentrations hit 393.1 parts per million (ppm) in 2012.
WMO Secretary-General Michel Jarraud said the findings "highlight yet again how heat-trapping gases from human activities have upset the natural balance of our atmosphere and are a major contribution to climate change."
He added, "as a result of this, our climate is changing, our weather is more extreme, ice sheets and glaciers are melting and sea levels are rising."
CO2 concentrations rose 2.2 ppm from 2011 levels, nearly 9 percent higher than the decade average rise of 2.02 ppm. While 2012 was notable for being the first year that scientists measured levels above 400 ppm, carbon dioxide concentrations are not even throughout the atmosphere and shift slightly during the year. The WMO bases its report on an annual average of measured concentrations. Pre-industrial levels of carbon dioxide were averaged around 278 ppm and many experts say we need to reign in concentrations to about 350 ppm in order to avoid the worse impacts.
The report also found that CO2 concentrations were not the only greenhouse gas on the rise. Methane also hit a new record of 1,819 parts per billion (ppb), while nitrous oxide hit a record of 325.1 ppb.
"Limiting climate change will require large and sustained reductions of greenhouse gas emissions. We need to act now, otherwise we will jeopardize the future of our children, grandchildren and many future generations," noted Jarraud.
Governments have pledged to keep temperatures from rising 2 degrees Celsius above pre-industrial levels, however experts say they are failing to act quickly and aggressively enough to ensure that target. Last month, the Intergovernmental Panel on Climate Change (IPCC) announced a global carbon budget if the world is to avoid catastrophic climate change. According to the group, the world must emit less than 1,000 gigatons of carbon dioxide in order to have better than 50 percent chance of keeping the 2 degrees Celsius target. Emitting less would make our chances better. As of 2011, global society had already emitted 531 gigatons, meaning that many of the world's fossil fuel reserves will have to remain untapped.
Continue Reading at Mongabay.com
Sunset Emissions via Shutterstock