Carbon emissions set to hit new record high in 2013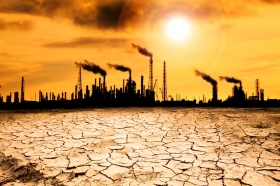 The amount of carbon dioxide emitted into the atmosphere in 2013 is expected to hit a new high of 36 billion tonnes, according to a Carbon Budget released today by the Global Carbon Project (GCP). This is a 2.1 percent rise from 2012 based on data from the same group.
"We have exhausted about 70 per cent of the cumulative emissions that keep global climate change likely below two degrees," said Global Carbon Project (GCP) member, Pierre Friedlingstein, with the University of Exeter. "In terms of CO2 emissions, we are following the highest climate change scenario of the Intergovernmental Panel on Climate Change released in September."
Nations worldwide have pledged to keep temperatures from rising above 2 degrees Celsius from pre-industrial levels, a threshold that scientists say is necessary to have a reasonable chance of avoiding catastrophic climate change. But experts say countries are moving too sluggishly on cutting their emissions in order to ensure this goal is met.
The only silver lining in the GCP's initial 2013 data is that the rate of rising emissions appears to be slowing slightly. Over the last ten years, emissions have risen on average 2.7 percent every year. However, in 2012 emissions rose 2.2 percent, while this year emissions look to rise 2.1 percent. This could indicate a trend of slowing carbon emissions growth, which, if the trend continues, would lead to an eventual decline. 
The GCP's data echoes similar findings in a recent report by the Netherlands Environment Assessment Agency and the European Commission's Joint Research Centre. This report found that annual carbon emissions growth actually slowed down to 1.1 percent in 2012. Scientists have warned that to keep the 2 degree target, global emissions must peak no later than 2015 and then fall precipitously thereafter.
"Governments meeting in Warsaw this week need to agree on how to reverse this trend. Emissions must fall substantially and rapidly if we are to limit global climate change to below two degrees," said the leader of the report, Corinne Le Quéré of the Tyndall Centre for Climate Change Research at the University of East Anglia.
Read from more from our affiliate, Mongabay.
Emissions image via Shutterstock.