Water emergency in West Virginia from chemical contamination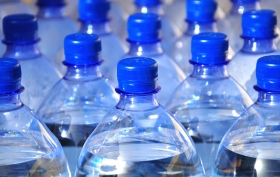 More than 100,000 customers of one water company in West Virginia have been warned not to drink, cook or wash with the water coming from their taps because of chemicals that seeped into the Elk River near Charleston on Thursday.
The warning covers all or parts of nine counties (listed below). More than 480,000 people live in the affected area — one-quarter of the state's population. Some surely get their water from wells that were not touched by the spill. But as The Charleston Gazette reports, so many people have been affected that "residents swarmed grocery stores, convenience stores and anywhere else with bottled water Thursday evening, and shelves were quickly depleted."
Ashton Marra of West Virginia Public Broadcasting tells our Newscast Desk that the warning "was issued after methylcyclohexene methanol — a chemical used in a coal-washing process — leaked into the local water supply of the capitol city of Charleston and surrounding areas."
The chemical came from a storage tank at a site run by Freedom Industries, Ashton says. That company produces specialty chemicals for the coal and steel industries.
According to Ashton, "customers were directed not to consume or even use tap water except for flushing and fire protection. [Officials say] consuming the water could cause severe burning in the throat, vomiting and skin blistering."
The counties affected include:
- Boone
- Clay
- Jackson
- Kanawha
- Lincoln
- Logan
- Putnam
- Roane
- Cabell County  (Culloden area)
Water supply photo via Shutterstock.
Read more at NPR.