Popularity of plug-in vehicles on the rise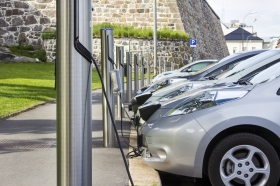 Good news for those living at the intersection of manufacturing and environmentalism. Here in the U.S., sales of plug-in electric and hybrid vehicles almost doubled between 2012 and 2013 with an 84 percent jump to 96,600 of the vehicles sold. That's 49,000 plug-in hybrids (like the Volt) and 47,600 pure battery powered plug-in vehicles sold.
Michigan resident and a guy concerned with environmental and sustainability issues, I've always had a love-hate relationship with the auto industry. On one hand, auto emissions are a main source of greenhouse gasses and the international thirst for oil, as gasoline production accounts for almost half of our oil use. On the other hand, friends, family, neighbors and the community depend very notably on income from the auto-manufacturing sector.
The foundry just a few hundred feet from where I grew up employs hundreds of good folks with good paying jobs and benefits. They manufacture parts for car companies, both foreign and domestic. So when things are going well for the auto industry, the local economy does decent. But when the domestic auto industry is in a slump, the economy pretty much collapses. There was about a 10-year stretch until the recent auto rescue when the Michigan economy was in a free-fall and lost almost a million jobs in a decade. WUMP. And believe me, you could see it every day in the news: companies and mom-and-pop shops closing; layoff reports; and boarded-up windows at malls and local retail spaces.
I definitely cheer the resurgence of the auto industry as it puts people and manufacturers back to work. And I even admit that I kind of like the smell of the foundry air when I happen to be at the hardware store near my old neighborhood.
Read more at ENN affiliate Triple Pundit.
Car recharge station image via Shutterstock.