UK unveils world first carbon capture project at gas-fired power station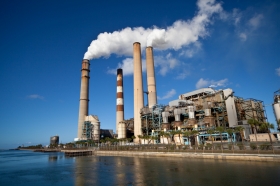 Deputy Prime Minister Nick Clegg and Energy Secretary Ed Davey have announced a ground-breaking deal with Shell which could generate enough clean energy to power half a million homes, and capture 1 million tons of CO2 each year.
This revolutionary multi-million pound project is the first of its kind in the world. The signing of the deal is for the first stage of a project to retrofit the Peterhead gas-fired power plant with carbon capture and storage technology.
The Peterhead project is the second of 2 projects to be funded under the UK's CCS competition marking a significant milestone for the program. Over the next 2 years, the Government is investing around £100 million from its £1 billion CCS budget, with additional industry investment, to plan, design and engineer the UK's first 2 CCS projects.
Along with the White Rose CCS Project in Yorkshire, the projects will be supported by around £100 million of Government money and will create 2,000 jobs including construction, and technical and operational jobs.
Peterhead will be the first gas plant in the world to capture carbon dioxide on an industrial scale and pipe it under the sea where it can be stored safely. This means the plant can produce clean energy.
Deputy Prime Minister Nick Clegg said: "The innovation of the UK's energy industry is something we should be really proud of and the fact that we are a world leader in carbon capture and storage is a great example of our country's ingenuity.
"Today's multi-million pound deal with Shell will help to safeguard thousands of jobs and power half a million homes with clean electricity."
"It shows we can build a stronger economy and do it fairly by protecting our environment for future generations."
Scottish Carbon Capture & Storage (SCCS) said it welcomed today's announcement that the Peterhead CCS Project has signed an agreement with the UK Government for a front-end engineering and design (FEED) study.
It says the news is a crucial milestone on its path to becoming the world's first large-scale carbon capture and storage (CCS) project at a gas-fired power plant, maximizing re-use of existing infrastructure and using a depleted gas reservoir offshore for CO2 storage.
Peterhead will capture and store up to 90% of the CO2 emissions from one of the power station's three turbines, cleaning up North Sea gas feedstock and providing a low-carbon source of electricity for homes and businesses across the UK.
Read more from our affiliate, ClickGreen.
Power plant image via Shutterstock.