LED Bulb Challenge ending soon!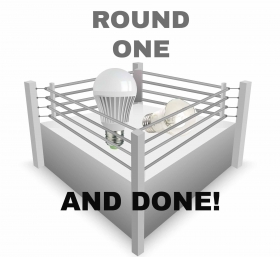 The most inefficient light bulbs may now be off the market, in response to new federal standards, but nearly 70% of light bulb sockets in the U.S. still contain an inefficient bulb.  Retailers across the country are stepping up to help change that, as part of the ENERGY STAR LED Bulb Challenge.
Last spring, the U.S. Environmental Protection Agency (EPA) challenged retailers to sell 20 million ENERGY STAR® certified LED bulbs by Earth Day 2014. This challenge introduces consumers to the next horizon in high-performing, energy efficient lighting, and potentially sets the stage for a wholesale transformation of the lighting market.
The high price tag of early LED technology proved to be an adoption barrier for the average consumer. But as the price of LED bulbs continues to drop, customers can now find ENERGY STAR certified LED bulbs at dramatically lower prices than just a year ago—some as low as $5 in store.
Just like early CFLs, LED technology has its challenges, in particular suffering from limitations affecting brightness and light distribution. However, to earn the ENERGY STAR label, LED bulbs must overcome these challenges and demonstrate they can deliver on brightness and produce light in all directions. Only ENERGY STAR certified LED bulbs are certified by independent third parties against a long list of rigorous performance requirements. LED bulbs that have earned the ENERGY STAR also come with minimum three year warranty.
ENERGY STAR certified LED bulbs use 70-90 percent less energy and can last 25 times longer than a traditional bulb. Just one bulb can save $135 over its lifetime.
As the momentum builds for the culmination of the ENERGY STAR LED Bulb Challenge this Earth Day, retailers and their customers are stepping up. So far, more than 10 million ENERGY STAR LED bulbs have been purchased. Replacing 20 million traditional bulbs with ENERGY STAR LED bulbs will ultimately save Americans more than $118 million each year in energy costs and prevent greenhouse gas emissions equal to emissions from 3.5 million vehicles.
Read more at Energy Star LED Bulb Challenge.
LED Bulb, incandescent bulb, and wrestling ring images via Shutterstock. Morphed by Robin Blackstone.