Coordinated chemistry yields green solutions for more efficient gas storage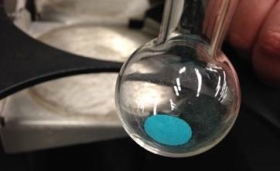 Metal Organic Frameworks (commonly called MOFs) are intricate crystal structures that can store or separate individual elements in a highly efficient manner. MOFs are materials made by linking inorganic and organic units together with strong bonds formed through coordination chemistry. MOFs are not only leading the way in providing clean technology solutions, but are actively being explored by the energy, transportation, and pharmaceutical industries to deliver new applications (for energy storage).
Since the technology was introduced, scientists have found applications for gas separation and storage as well as other promising applications within the green industry. framergyâ"¢ is a company on the cutting edge of this industry. Their new class of MOFs has been built from the nano-level to more closely mimic nature thereby leveraging the attributes of MOFs to increase working capacity and stability.
Because MOFs have the highest surface area known to man, extreme amounts of a selected element, like methane, can be separated and stored within them opening up new energy solutions for gas storage at low pressure.
MOFs began as a solution for the hydrogen vehicle. In 2012, framergy's Chief Scientific Advisor and founder, Hong-Cai "Joe" Zhou of Texas A&M University was awarded his second highly selective ARPA-E award to develop MOFs for low-pressure vehicle storage of natural gas.
Once thought of as impossible, in less than two years, these exclusively licensed materials have increased performance (the selection, storage, and applicability) of MOFs through rational design, while reducing costs 4,000 fold. In addition, framergy has developed water and ACID-stable MOFs for industrial performance. 
Currently, framergy is commercializing MOFs through its partnership with KSR International, a Tier 1 automotive parts supplier, for low-pressure natural gas tanks for automotive use. With considerable inexpensive sources available and a low pollution factor, natural gas is a preferred choice as petroleum replacement in cars and other mobile applications. With MOFs, an onboard storage tank can deliver the same energy (density) of Compressed Natural Gas (CNG) at 400 percent less pressure making the technology capable of delivering more driving range than CNG.
For more than 140 years, technology progress in the auto industry has been slow. Since its transformation by the recession, the auto industry has become a leader in new technology. It has pioneered light materials for fuel economy and the digitalization that will lead to self-driving cars.
Framergy is currently working on MOFs that will deliver new solutions to enable natural gas and hydrogen vehicles and modernize transportation pollution controls.
Read more at Framergy.
Molecule trap image via Framergy.