Ways to improve indoor air quality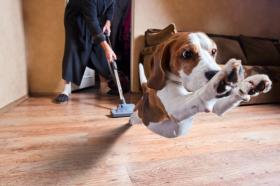 Indoor air quality isn't something most people think about, but breathing clean air can and does impact out health. Here's why paying attention to the air you breathe indoors is so important and how to then go about improving it.

Vacuum More Often

Vacuuming more often will help keep dust at bay, but many vacuums also come with a filter system which can remove mold, pollen, and other air pollutants. Aim to vacuum at least once a week, twice if you live with animals.

Open The Windows

Opening the windows seems like an obvious choice, but we all forget the easy stuff sometimes. Just opening the window at night, when it's cool out, will help to circulate the air and cool down the house. Then, in the morning, shut everything up.

If it's wintertime, you may not want to open the windows, but doing so once in a while can really get the air moving, and you don't have to do it for very long. Just make sure you turn the heat off while you're refreshing the house.

Detox Your Cleaning Products

You don't need a lot of chemical cleaners in the home. If you must have mold killers and something for bacteria and viruses, a simple bleach solution will do it.

Everything else in your home can be cleaned with natural soap (opt for non-detergent cleaners) and water. If you have a lot of wood, use special wood soap.
Terrible vacuum image via Shutterstock.
Read more at ENN Affiliate ClickGreen.