Could renewable 'power-by-wire' help fix China's air pollution problems?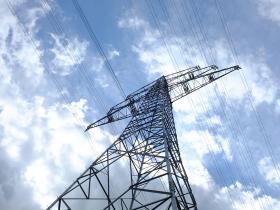 Bringing renewable power 'by wire' from western China to its power-hungry Eastern cities could have benefits for both local air quality and global climate change, new research has found.
The study, published today in the journal Environmental Research Letters, examined if ongoing power transmission capacity investment in China – driven largely by concerns over air pollution – could also reduce local adverse health impacts from air pollution, and greenhouse gas emissions.
China is the world's top carbon emitter, and suffers from severe air pollution. It recently committed to improve air quality and to peak its CO2 emissions by 2030. The research team carried out a quantitative evaluation of the potential air quality, health and climate implications of long-distance energy by wire strategies.
Lead author Dr Wei Peng, from Harvard University, said: "We examined one possibility that could potentially address both problems: using long-distance electricity transmission to bring renewable power to the polluted eastern provinces."
Continue reading at IOP Publishing
Image via IOP Publishing