Air pollution cuts three years off lifespans in northern China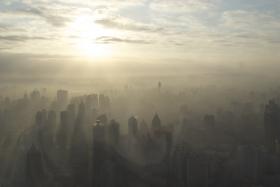 There are currently an estimated 4.5 billion people around the world exposed to levels of particulate air pollution that are at least twice what the World Health Organization considers safe. Yet the impact of sustained exposure to pollution on a person's life expectancy has largely remained a vexingly unanswered question—until now.
A study published Sept. 11 in the Proceedings of the National Academy of Sciencesfinds that a Chinese policy is unintentionally causing people in northern China to live 3.1 years less than people in the south, due to air pollution concentrations that are 46 percent higher. These findings imply that every additional 10 micrograms per cubic meter of particulate matter pollution reduces life expectancy by 0.6 years. The elevated mortality is entirely due to an increase in cardiorespiratory deaths, indicating that air pollution is the cause of reduced life expectancies to the north.
"These results greatly strengthen the case that long-term exposure to particulates air pollution causes substantial reductions in life expectancy. They indicate that particulates are the greatest current environmental risk to human health, with the impact on life expectancy in many parts of the world similar to the effects of every man, woman and child smoking cigarettes for several decades," said study co-author Michael Greenstone, director of the Energy Policy Institute at the University of Chicago and the Milton Friedman Professor in Economics, the College and the Harris School. "The histories of the United States, parts of Europe, Japan and a handful of other countries teach us that air pollution can be reduced, but it requires robust policy and enforcement."
Continue reading at University of Chicago
Photo Credit: BriYYZ via Wikimedia Commons