Airline industry could fly thousands of miles on biofuel from a new promising feedstock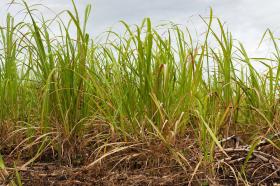 A Boeing 747 burns one gallon of jet fuel each second. A recent analysis from researchers at the University of Illinois estimate that this aircraft could fly for 10 hours on bio-jet fuel produced on 54 acres of specially engineered sugarcane.
Plants Engineered to Replace Oil in Sugarcane and Sweet Sorghum (PETROSS), funded by the Advanced Research Projects Agency - Energy (ARPA-E), has developed sugarcane that produces oil, called lipidcane, that can be converted into biodiesel or jet fuel in place of sugar that is currently used for ethanol production. With 20% oil – the theoretical limit – all of the sugar in the plant would be replaced by oil.
"Oil-to-Jet is one of the direct and efficient routes to convert bio-based feedstocks to jet fuel," said Vijay Singh, Director of the Integrated Bioprocessing Research Laboratory. "Reducing the feedstock cost is critical to improving process economics of producing bio-jet fuel. Lipidcane allows us to reduce feedstock cost."
Continue reading at Carl R. Woese Institute for Genomic Biology
Image via Pixabay