Cost of U.S. Solar Drops 75 percent in Six Years, Ahead of Federal Goal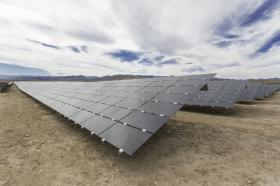 The Trump administration has announced that a federal goal to slash the cost of utility-scale solar energy to 6 cents per kilowatt-hour by 2020 has been met early. The goal, set by the Obama administration in 2011 and known as the SunShot Initiative, represents a 75 percent reduction in the cost of U.S. solar in just six years. It makes solar energy-cost competitive with electricity generated by fossil fuels.
The Department of Energy attributed achieving the goal so quickly to the rapidly declining cost of solar hardware, such as photovoltaic panels and mounts. And it said it will next focus its efforts on addressing "solar energy's critical challenges of grid reliability, resilience, and storage," according to a press release.
Continue reading at Yale Environment 360
Image: A 250-MW solar project on the Moapa Band of Paiute Indians Moapa Indian River Reservation in southern Nevada. It is the first utility-scale solar project on tribal land in the U.S.
Credit: FIRST SOLAR/DOE