Are cashiers at risk of dangerous chemical exposure through paper?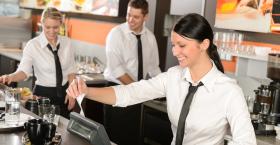 People who handle paper receipts regularly may be at increased risk for exposure to a chemical linked to breast and prostate cancers, according to new UAlberta research.
"We found that people who handled receipts printed on thermal paper containing the chemical had it lingering in their body for a week or more," said Jiaying Liu, a PhD candidate in UAlberta's Department of Laboratory Medicine and Pathology.
The chemical, endocrine disruptor bisphenol-A (BPA), is used on most paper receipts.
"The total BPA exposure was far below known toxic threshold levels, however the finding is important because it shows for the first time that the proportion of free BPA—the toxic form of BPA—in blood following skin exposure is much higher than that following oral exposure."
Continue reading at University of Alberta.
Photo via University of Alberta.