Filter may be a match for fracking water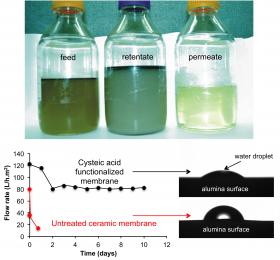 A new filter produced by Rice University scientists has proven able to remove more than 90 percent of hydrocarbons, bacteria and particulates from contaminated water produced by hydraulic fracturing (fracking) operations at shale oil and gas wells.
The work by Rice chemist Andrew Barron and his colleagues turns a ceramic membrane with microscale pores into a superhydrophilic filter that "essentially eliminates" the common problem of fouling.
The researchers determined one pass through the membrane should clean contaminated water enough for reuse at a well, significantly cutting the amount that has to be stored or transported.
The work is reported in Nature's open-access Scientific Reports.
Continue reading at Rice University
Image: A superhydrophilic filter produced at Rice University can remove more than 90 percent of contaminants from water used in hydraulic fracturing operations. In this image, "produced" water from a Marcellus shale fracturing site is at left, the retentate (carbon removed from the feed) is at center, and filtered "permeate" water is at right. The hydrophilic treatment keeps the filter from fouling and restricting flow while rejecting contaminants.
Courtesy of the Barron Research Group