International partnership aims to improve water quality in India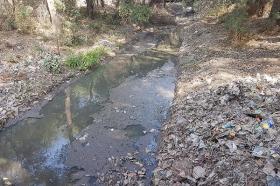 A University of Windsor engineering professor is leading the way on an industry-academia collaboration that aims to improve drinking water quality in the capital of India.
Rajesh Seth has obtained funding through the India-Canada Centre for Innovative Multidisciplinary Partnerships to Accelerate Community Transformation and Sustainability (IC-IMPACTS) — a Canadian Network of Centres of Excellence dedicated to the development of research collaborations between Canada and India.
The joint project with researchers from the Council of Scientific and Industrial Research – National Environmental Engineering Research Institute in India aims to improve sewage-contaminated lake water quality through aeration and floating wetland plants. Dylan Verburg, a master's candidate in environmental studying under Dr. Seth, will spend the fall semester in India collecting samples and data from Sonia Vihar Lake, a small polluted water pond which discharges into the Yamuna river, a source of Delhi's drinking water.
"One of most effective ways to improve water quality is using organisms to break down pollution," Seth said. "Biological treatment is faster when dissolved oxygen is in the water. So, if we want to improve the rate of treatment, one of the ways to do it — and we use it quite extensively in waste water treatment in North America — is to find an efficient way to replenish the dissolved oxygen that is quickly consumed."
Continue reading at University of Windsor.
Photo via University of Windsor.