To Drop CO2 Emissions, Look to Local Transportation and Housing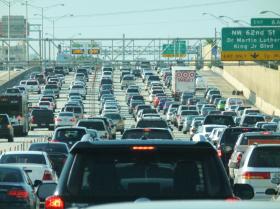 Worldwide, the United States is one of the biggest greenhouse gas emitters. The Obama administration began efforts to drop those numbers by increasing vehicle fuel economy standards in 2011 and with its Clean Power Plan proposals in 2015.
But even if implemented as planned, which is uncertain given the current Administration's energy-policy agenda, that two-pronged approach would still fall short of the country's commitment to the Paris Climate Accord. Local efforts in residential housing and transportation, however, could help make up the difference, according to new findings from the University of Pennsylvania's John Landis and Erick Guerra, and David Hsu of the Massachusetts Institute of Technology.
"If you ask which end-use sectors are responsible for the most greenhouse gas emissions, the answer is housing and transportation," said Landis, the Crossways Professor of City & Regional Planning in Penn's School of Design. "These are two places where, if you wanted to take a regional approach to reducing greenhouse gases, you could. We wanted to see how far you could go."
Continue reading at University of Pennsylvania
Image Credit: B137 via Wikimedia Commons