Successful Nigerian business-NGO partnerships rooted in collaboration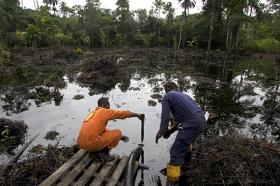 What's the key ingredient to successful partnerships? York University Development Studies Professor Uwafiokun Idemudia reviewed existing research on an unorthodox union between a non-governmental organization (NGO) and an oil company with a history of spills in Nigeria. He found that collaboration was beneficial even when innate creative tensions exist, and to reach sustainable targets, the company needs to align its overall strategy with the goals of the partnership.
This work, published in Business Strategy and the Environment (2016), fills an important void. "Different strategies adopted by NGOs for working with businesses have remained relatively unexamined," Idemudia explains. "Ultimately, we're looking for the necessary tools or approaches for sustainable development in developing countries," he adds.
This is Idemudia's forté. He is a thought leader in the area of critical development studies, political economy and political ecology approaches to natural resource extraction in developing countries, business and development, issues of governance, transparency and accountability in resource-rich African countries.
Business–NGO partnerships are based around the idea that by combining complementary core competences, resources and skills and sharing associated risks, business would achieve something it otherwise would not have achieve alone.
Continue reading at York University.
Image via York University.