Green infrastructure: New tool by University of Toronto researchers to help construction industry reduce carbon footprint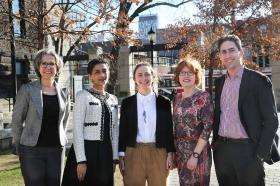 A team of researchers from the University of Toronto is partnering with the construction industry to help reduce the carbon footprint of buildings, bridges, public transit and other major infrastructure projects.
"What we're building is a decision-support tool that can be used in the early stages of design and planning," says Heather MacLean, a professor in the department of civil engineering who is one of five Faculty of Applied Science & Engineering professors involved in the project. "Ultimately, the goal is to produce infrastructure with much lower greenhouse gas impact."
While green building certification programs have existed for decades, MacLean and her collaborators – including Brenda McCabe and Daman Panesar, professors of civil engineering, and Daniel Posen and Shoshanna Saxe, assistant professors of civil engineering – point out that these are typically considered only toward the end of the design process, when most major decisions have already been made.
"The decisions that have the most impact are the ones that are made early in the process," says Saxe, who specializes in analysis of transit infrastructure. "These include how big it's going to be, or what materials it will be made of. Once those are set, it really puts limits on how low the overall emissions can get."
Continue reading at University of Toronto.
Image via University of Toronto.